The bottom-most aspects on the ruby (the primary structure facets) attract their light from the greatest angles. When a Hearts & & Arrows diamond is photographed from directly above, these areas will certainly go dark if the video camera obstructs, or obstructs, the light resource. This is known as blockage. The dark locations are, actually, a representation of the viewer or camera lens in the crown of the diamond.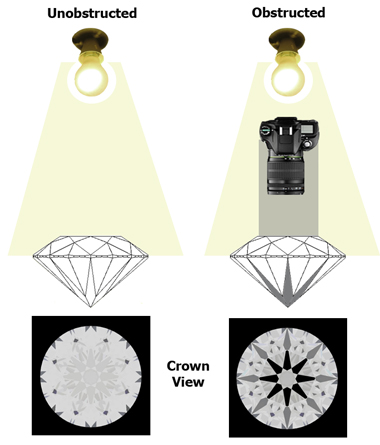 Will I see dark arrowheads in the real world?
Not unless you work hard to do so. The only method obstruction can be viewed as it shows up in these images is if you are able to hold the diamond flawlessly still while obstructing the source of light with your head at the correct range. When diamonds are unblocked (practically every one of the moment) the patterns are not obvious.
In the initial picture the video camera is placed so the arrowheads impact shows up in the center rock, but the side rocks are offset, so the arrows are not noticeable. The other images show various angles and the resultant contrast patterns. All these diamonds have premium optical symmetry, however, for the arrows result to be noticeable the electronic camera should be directly over the crown, obstructing the light at the correct range to make sure that every one of the structure mains go dark at the same time.